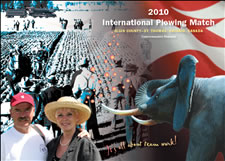 Jumbo visits The 2010 International Plowing Match, St. Thomas
- Designed by Gail McNaughton and sister, Norma Nelson-Lomoro -
Norma Nelson-Lomoro's Designer Notes:
"I have blended the old plowing image with a stylized Canadian flag and polarized the image to give it a more modern feel. Jumbo is watching with the crowd. The message, "It's all about team work" conveys an impact statement that tells what the match is all about. Please notice the train in the background for St. Thomas was at one time considered the Train Capital of Canada. Bob and Gail McNaughton who reside in St. Thomas have come to the match and encourage others to participate. I wanted the design to say that the matches have a wonderful history but are still going strong in 2010 and St. Thomas is proud to be a host."

Postcards will be available at the International Plowing Match in St.
Thomas, September 21-25, 2010 from the Dog & Pony Productions Inc. booth in
the Artisan's Tent. Dog & Pony is an IPM Bronze Sponsor.



I had a delightful day,
And I will come again soon,
To Port Stanley.
I frequent here,
To splish and splash,
And have a,
Lake Erie spa day,
In the midst,
Of my heavy schedule,
On view in St. Thomas,
And entertaining,
Tourists from around the world.

I love Little Beach,
The perch that,
Tickle my feet,
And the sand in my toes,
And the children,
Who I shower with my trunk.
I feel like a lake faucet,
Recycling water but,
I enjoy its warmth in my bath,
And a dry towel to lie in the sun.

I'm a star everywhere I go,
But my head's already swelled,
So I pose for pictures and,
Direct people to –
The Port Stanley Festival Theatre,
The King George Lift Bridge,
Moore's Water Gardens,
The Port Stanley Terminal Rail,
The Main Beach,
Restaurants, Merchants,
And Accommodations.

I guess once a tourist icon,
Always a role model,
So I assume my duties,
Whether I'm at home,
As a statue,
To my lifetime of service,
In the Barnum Bailey Circus,
And my unfortunate encounter,
With a train;
Or whether I'm,
On my very own piece of heaven,
On the beach,
Enjoying life's moments.
Bye for now,
See you when I need another,
Fresh lake shower,
A Great Lake ocean breeze,
And the fun and excitement,
Of a summer's encounter in
Port Stanley.