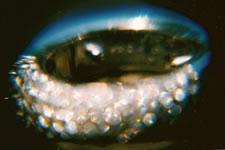 My wedding band (10th year anniversary ring which we purchased in Rio) which I just love. I have a fantastic lens that lets me do things like this up close and personal.



Humber Ring Designs
A few years ago Norma hired me to take photos of Humber Rings & Medals. One of these two designs is going to be used in the Humber Media Guide. Too bad I don't get royalties! They have used some of the photos I've taken in the past of rings and medals but another run of photos never hurts.
CV HawksMediaGuide.1112-designs#1
Each artist has his/her own unique style to capture the moment. Gail has been a photographer since 1973. One of her first assignments was taking photos for ID badges of all new employees. Along the way came taking photos for an internal publication of which she was the editor. A unique assignment while she was in the same company was taking weekly photos of a building being constructed in the Square I, Mississauga area that she could view from her 11th floor office. The payment was the camera that she used to take the photos. Her photography passion was born. In each and every company that Gail worked she became the company photographer sometimes by choice and sometimes on assignment. Bob and Gail McNaughton are available for photography assignments. Stock photography and video footage are offered for rent or sale.
Also see www.dogandpony.ca for more extensive information.
Photography Prices upon request.